It's Been a Rough Quarter for Social Media Giants
This quarter looks to be one that social media companies would like to forget. Outside of Facebook, firms like Twitter, Yelp and most recently LinkedIn have posted abysmal results.
Here's a recap.
After leaking early, Twitter's earnings seemed to be doomed from the start. Analysts across Wall Street were disappointed, and shares have tumbled by roughly 20 percent since the release. First-quarter revenue fell short of estimates and the firm cut its sales forecast as it struggles to attract more users and advertisers. Also concerning to investors is the firm's new sales forecast. Sales are projected to be $470 million to $485 million in the second quarter, missing the average analyst projection for $538.1 million. Citi analysts said that "While management is actively pursuing initiatives to improve user growth, the effectiveness of its ad products, and overall monetization, we continue to believe that many of the bull case assumptions are priced in even at after-market levels. We need to gain more confidence in these user and monetization growth initiatives before getting constructive."
LinkedIn is the most recent to report, and its stock fell precipitously after the market close. The stock ended the day at $252.13, but fell all the way to $183.32 in after hours trading as the firm's first quarter revenue missed estimates for the first time. Forecasts also failed to impress, with the company citing the strong dollar and slower-than-projected growth. Second-quarter revenue will be $670 million to $675 million, LinkedIn said. Analysts had predicted $718.3 million, on average, according to data compiled by Bloomberg. John Blackledge of Cowen and Company said the huge after hours fall was overdone. "LNKD's 1Q15 results were solid but guided '15 EBITDA down 20% mainly due to FX and 1x items; ..excluding FX and 1x items, '15 EBITDA was guided down ~4%. The stock over-reacted on the downside AH (down 20%+), which was overdone in our view. We cut '15 est's per the new Guide; lower Target Price to $260 from $290, reiterate Outperform."
Yelp also failed to live up to expectations with its shares tumbling roughly 20 percent since reporting earnings. In the first quarter, revenue was $118.5 million, trailing estimates of $119.8, according to data compiled by Bloomberg. The firm reported a first-quarter loss of $1.28 million, or 2 cents a share, while analysts' had estimated a profit of 1 cent. In a note titled "Y(H)elp! Downgrading To Sector Perform On Very Negative Q1 Results," RBC Capital Markets analyst Mark Mahaney lowered his price target to $50 from $82. Shares closed Thursday at $39.39.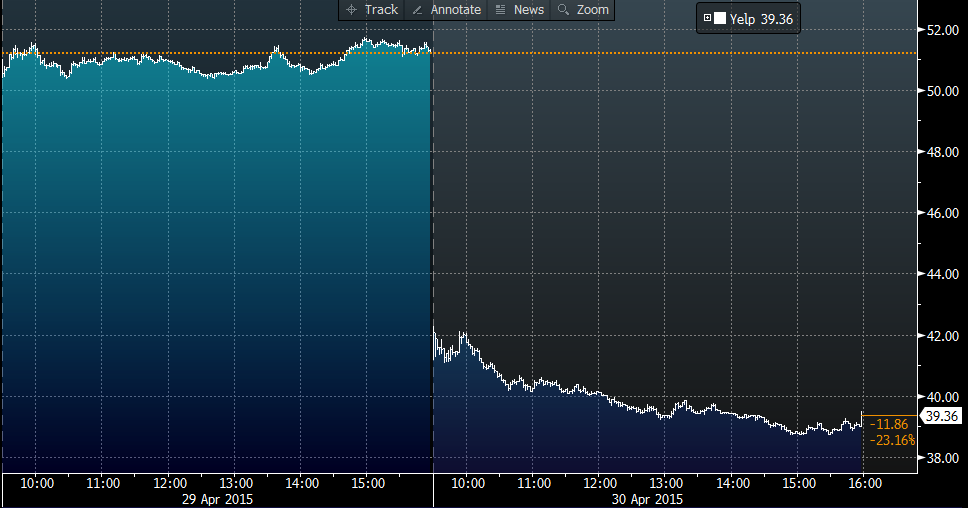 Facebook fared comparatively well although the company missed on sales estimatesfor the first time since 2012. Advertising sales rose 46 percent to $3.32 billion from a year earlier, but would have increased 55 percent without the the effect of a strengthening U.S. dollar (the company generates more than half its revenue outside the U.S.). Adjusted earnings were 42 cents a share, compared with 35 cents in the same period last year. Analysts had expected 40 cents, according to an average of their estimates compiled by Bloomberg. "The overall tone of the FB calls continues to be very upbeat," Ross Sandler and his team at Deutsche Bank said in a research note.
Still, even Facebook failed to be 'liked' by investors much this week.
Its stock is down more than 5 percent since reporting after the market close on April 22.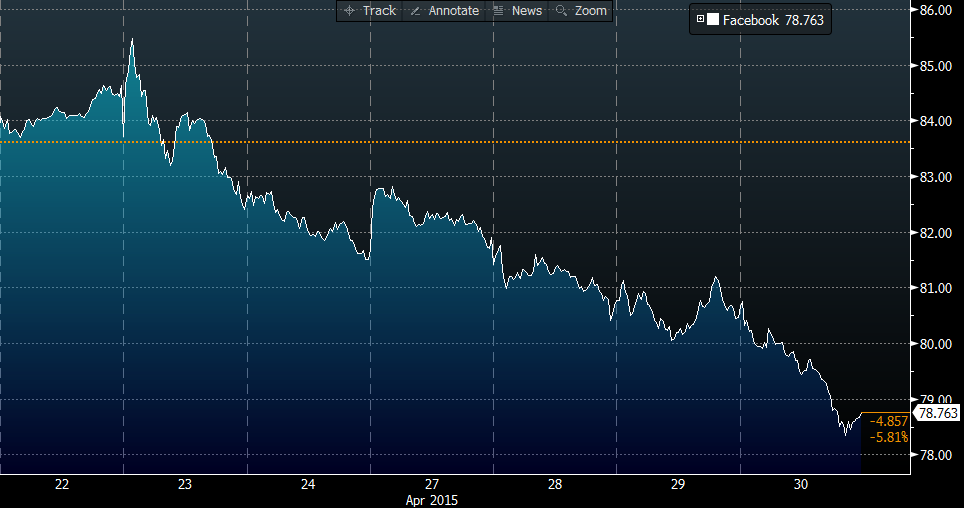 [wysija_form id="1″]